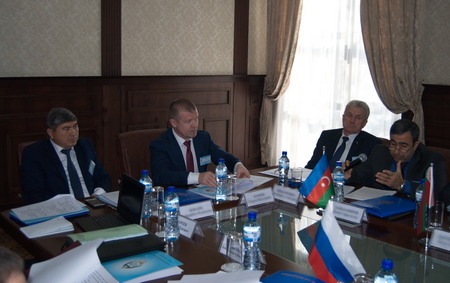 The consultations brought together representatives of the competent authorities from Azerbaijan, Belarus, Kazakhstan, Kyrgyzstan, Russia, Tajikistan, Uzbekistan, ministries of interior of Kyrgyzstan, Russia, Tajikistan, Uzbekistan, as well as Coordination Service of the Council of the Commanders of the Border Forces, Office for the Coordination of the Fight Against Organized Crime and Other Dangerous Types of Crime on the Territory of CIS member-states and Council of the Heads of the CIS Penitentiary Services.
During the event, emphasis was placed on the issues of collective and national security of the Commonwealth member-states.
The participants discussed trends and factors influencing security of the CIS states, including continued unrest in the Syria-Iraq and Afghanistan-Pakistan areas, mass migration proceses, issue of "sleeper" terrorist cells, and reiterated the necessity to carry out constant information exchange on topical lines of activity in countering terrorism and violent manifestations of extremism.
The meeting was concluded with an Outcome document.