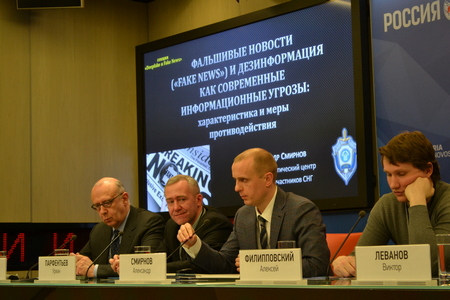 Cyber Security Forum 2019 was held on 14 February 2019 at the Rossiya Segodnya International News Agency in Moscow.
The CIS Anti-Terrorism Center's representative Alexandr Smirnov delivered a scientific report on Fake News and Fabricated Stories as Contemporary Information Threats: Characteristics and Counter-Measures during the thematic session dedicated to Deep Fake and Fake news.

Cyber Security Forum 2019 brought together prominent Russian and foreign experts in cybersecurity.

The event agenda included a plenary session (top-panel "Cybersecurity 2019") and thematic sessions including:

- Public Talks: how to create and promote positive content;
- Deep Fake and Fake News;
- GDPR and Russia
- "Dark side" of digital content: threats, prevention, protection;
- Biometrics for financial and private security: borderline between convenience and danger;
- Software-technical threats.