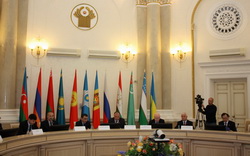 A meeting of the Council of CIS member-states' permanent representatives at the Commonwealth's statutory and other bodies was held in the CIS Executive Committee, Minsk on 23 April 2018.

The agenda included inter alia activity of the CIS Anti-Terrorism Centre.

In his address to the meeting participants the Head of CIS ATC Colonel General Andrey Novikov outlined the main directions of the Center's activity emphasising information-analytical support to the operation of the CIS competent authorities; coordination of their interaction in combating terrorism and extremism; improvement of the legal base for anti-terrorism cooperation; facilitation in search of the fugitives wanted for terrorist crimes and search of foreign terrorist-fighters as well as training of the counter-terrorism units' specialists (click here to see full statement).

The Council members commended the positive role of the CIS ATC in providing coordination of cooperation between the Commonwealth competent authorities in combating international terrorism and other manifestations of extremism.

For the purpose of taking timely and adequate measures it has been recommended that the Anti-Terrorism Centre should continue elaborating proposals on development and qualitative enhancement of the international legal base for cooperation, improvement of the mechanism of information sharing among the competent authorities through the use of Specialised Data Bank, upgrading of the level of information-analytical and outreach work.