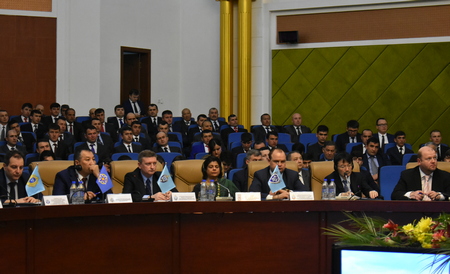 The 4th Regional meeting of the heads of border agencies of the Central Asian states, Russian Federation, Islamic Republic of Afghanistan was held on 26 February 2019 in Dushanbe, Republic of Tajikistan which provided a platform for an International Research and Practice Conference on Efficient Efforts to Counter Manifestations of International Terrorism, Extremism, Drug Smuggling, Illegal Migration and Human Trafficking as the Main Threats to Security of External Borders of the CIS Member-States.
An executive secretary of the CIS ATC Scientific and Advisory Council Pavel Mareev delivered a report during the plenary session of the conference on "Modern migration processes and their impact on anti-terrorist security of the CIS member-states' external borders".
The meeting and the conference were organized by the Border Forces of the Tajikistan SCNS in cooperation with the Coordination Service of the Council of the Border Forces Commanders and were held in compliance with the Program of cooperation of the CIS member-states in strengthening cross-border security at the external borders for 2016 – 2020.
The event was attended by the representatives of the border security authorities of the Commonwealth states (Armenia, Belarus, Kazakhstan, Kyrgyzstan, Russia, Tajikistan, Uzbekistan), Afghanistan, as well as CIS bodies, including Coordination Service of the Council of the Border Forces Commanders, CIS Anti-Terrorism Center, Office for Coordination of the Fight Against Organized Crime, Council of the Heads of Migration Authorities, Committee of the Heads of the Law-Enforcement Units of the Council of the Heads of Customs Authorities), Secretariat of the CSTO, Executive Committee of the SCO RATS, UNODC Regional Office for Central Asia.