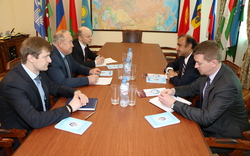 A working meeting of the Center's Head Andrey Novikov and Director of UN Office of Counter-Terrorism D-r Jehangir Khan was held in Moscow's CIS ATC headquarters on 27 April 2018. The issues of cooperation between the UN specialized agency and CIS ATC in combating terrorism were the main topics of discussion.
It has been particularly noted an interest in mutual participation of implementation of the projects aimed to ensure regional security in the Central Asian region. The parties have discussed topical threats posed by foreign terrorist-fighters amid their return and relocation from the conflict zones to other regions of the world, including the countries of their origin.
At the meeting the ways of further development of the organizations' cooperation in combating terrorism, including information sharing and facilitation of implementation of the security projects at the regional and global levels have been outlined as well. The parties have agreed to continue the dialogue on the margins of the forthcoming United Nations High-level Conference of Heads of Counter-Terrorism Agencies of Member States on "Strengthening international cooperation to combat the evolving threat of terrorism" to be held on 28-29 June this year in New-York, USA.
In its Global survey of the implementation of Security Council resolution 1624 (2005) by Member States the Counter-Terrorism Committee noted the CIS ATC's activity aimed to provide Member States with platforms for information-exchange, including on foreign terrorist fighters and organizations deemed to be terrorist or extremist.
This year the Center's activity was commended in the Sixth report of the Secretary-General on the threat posed by ISIL (Da'esh) to international peace and security (January 2018). It was specifically noted that "the Anti-Terrorism Centre of the Commonwealth of Independent States is also working to bring together the efforts of financial intelligence units and competent authorities in combating terrorism financing".