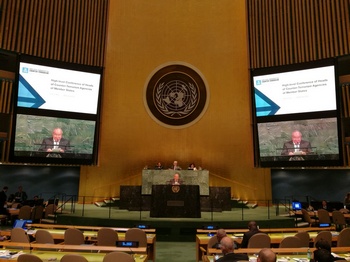 On 28-29 June 2018, the CIS ATC delegation headed by Colonel General of Police Andrey Novikov upon invitation of the Under-Secretary-General for Counter-Terrorism Vladimir Voronkov participated in the first-ever United Nations High-level Conference of Heads of Counter-Terrorism Agencies of Member States on "Strengthening international cooperation to combat the evolving threat of terrorism".
At its second session dedicated to combating the evolving threat from foreign terrorist-fighters, the CIS ATC Head made a statement on "Terrorist threat - regional solutions".

Andrey Novikov noted commitment of the Commonwealth states to the international laws, existing rules and standards in the field of combating terrorist threat while solving practical tasks both at a national and regional levels, and informed that the intelligence services of the CIS states carefully follow the new trends of geolocation of the ISIS core, including formation of sleeper cells, changes in priority terrorist targets, and new recruitment techniques.