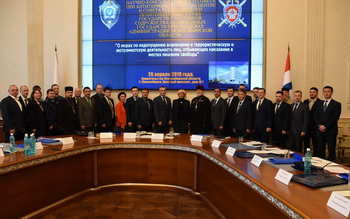 An extended meeting of the CIS ATC's Scientific-Advisory Council on measures to prevent enrolment into terrorist and extremist activity of the persons serving sentences in the detention facilities was held in Novosibirsk with the support of the CIS Council of the Heads of Penal Services, Federal Penal Service of the Russian Federation and Government of Novosibirsk oblast.

The event was attended by the officers of the criminal-penal system of the CIS states; representatives of the security agencies, intelligence and law-enforcement authorities of the CIS member-states; practitioners and academicians from Azerbaijan, Kakakhstan, Russia, Uzbekistan, representatives of the national preventive and rehabilitation centres and traditional confessions.

Holding of such expert gatherings is caused not just by total rise in terrorist activity all over the world and operations of the international and extremist organizations but a necessity to timely identify and prevent key threats to the national security of the CIS states.

Today it is observed that international terrorist organizations are interested in recruiting new followers among the persons sentenced to imprisonment in order to use destructive capacities of the criminals in committing extremist and terrorist crimes and enrol them into anti-constitutional activities.

The analysis of information accumulated in the CIS ATC Specialised Data Bank on the perpetrators of extremist acts in the Central Asian region and Russia demonstrates that part of the perpetrators had had criminal experience for some years before they became involved into terrorist and extremist activity.

It is the persons sentenced for general crimes who fall into the risk circle where potential terrorists are recruited.

The event participants highlighted that a qualitative preventive work aimed to prevent convergence of extremist and criminal ideology and avoid repetition offences among the convicts and those who have served their sentences for terrorist and extremist crimes is among the key tasks that face the CIS competent authorities.

The aim of the event was to extensively discuss the issues related to counteraction to convicts' radicalization (as well as on religious ground) and their enrolment into terrorist and extremist activity, and to elaborate a consolidated stance on the methodology of the preventive and rehabilitation work conducted with the imprisoned for terrorist and extremist crimes persons in the correctional facilities of the CIS member-states.