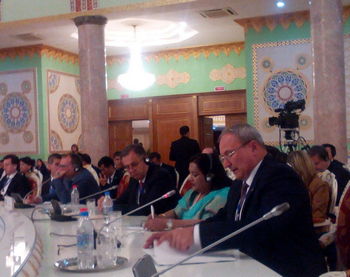 CIS ATC Deputy Head Major-General Siarhei Dudko took part in the High-Level Conference "International and Regional Cooperation on Countering Terrorism and Its Financing Through Illicit Drug Trafficking and Organized Crime" on 17 May 2019 in Dushanbe, Republic of Tajikistan.

He on behalf of the CIS Anti-Terrorism Center expressed gratitude to the organizers for the invitation and opportunity to share experience of the Commonwealth states in combating terrorist threats.

In his statement Siarhei Dudko noted that further operation of the international terrorist organizations was impossible without their active financing from outside. He also highlighted that terrorists in the course of preparation to and commitment of their illegal activity always left financial footprint.

With that the financing sources may include forced and voluntary fundraising in the population, variable expropriations, illicit drug trafficking, human trafficking, arms trafficking, illicit trafficking of cultural property, natural resources, laundering of money, including those obtained from criminal acts.

International terrorist organizations widely use organized crime to the above purposes, Siarhei Dudko said.

Considering the priority of the issue the CIS ATC mobilizes efforts in this field of all interested services, units and organizations in the Commonwealth, Dudko noted. We carry out practical work in this area in cooperation with the Eurasian Group on combating money laundering and financing of terrorism (EAG) and Council of Heads of the CIS Financial Intelligence Units that allows for identification of the persons involved into terrorism financing, financed terrorist groups and individual terrorists in a short time frame, he added.

The conference was organized by the Government of Tajikistan in cooperation with the UN, the European Union, OSCE and other international partners.

The event was concluded with adoption of a declaration in which the parties stressed that "illicit drug trafficking remained one of the fundamental threats to the international peace and security and undermined sustainable development, human rights and rule of law". In addition, the document called "all the states to promote and strengthen international cooperation in compliance with their commitments under the international law".