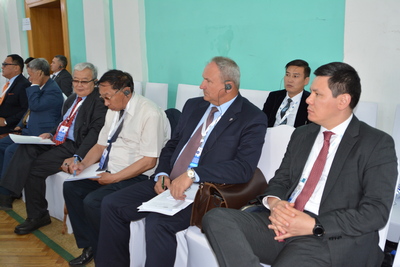 On 20-21 June the CIS ATC Deputy Head Sergey Dudko took part in the High-Level Inter-Regional Conference on 'Whole-of-Society' Approach to Preventing and Countering Violent Extremism and Radicalization that Lead to Terrorism (P/CVERLT) in Ulaanbaatar, Mongolia.

During the conference Gen. Dudko made a presentation on Regional and National Strategies and Plans of Action for Preventing Violent Extremism: Experience of the CIS Member-States.

The event was organized by the Ministry of Foreign Affairs and the National Counter-Terrorism Coordination Council of Mongolia in collaboration with the Transnational Threats Department of the OSCE Secretariat and the United Nationals Office of Counter-Terrorism.

The conference focused on advancing the role of inter-cultural and inter-faith dialog in P/CVERLT; empowering youth and local communities in P/CVERLT; leveraging whole-of-society approach in conceptualizing and implementing national strategies and action plans; key priorities in developing and implementing effective policies and measures to P/CVERLT; lessons learned and road ahead for the inter-regional dialogue on P/CVERLT.