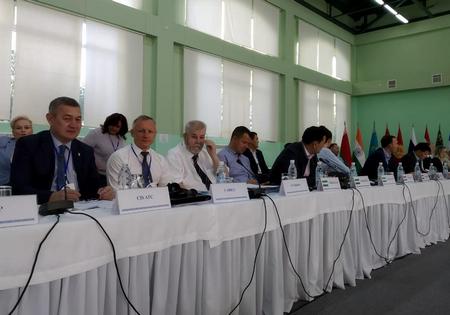 On 10-12 September 2019, the delegation of the CIS Anti-Terrorism Center led by the First Deputy Head Zhanat Saipoldayev took part in the Eurasion Forum on Anti-Money Laundering and Combating Financing of Terrorism which was held in the Kyrgyz Republic.

Zh. Saipoldayev expressed his gratitude to the organizers for the invitation to the event and highlighted that the issue of anti-money laundering and combating financing of terrorism was among the key topics of international antiterrorism agenda.

In his statement he noted that despite the reduction of the terrorists' resource potential in the Middle East the problem of financing their operations remained topical.

"We continue recording destructing ideological influence of the international terrorist organizations (ITO) on different categories of our citizens. ISIL gains revenue from drug trafficking, trafficking of historical and cultural artifacts, and last but not the least external sponsors acting under the guise of specialized law centers, charity foundations, religious organizations and other NGOs. Crypto currency is actively used, the geography of the terrorists' resource supply is expanding, including through crowd funding schemes used to collect money in the Internet. The shift in ITO activity to other regions of the world (South-East Asia, North Africa, Afghanistan) has already resulted in new hotbeds of instability, transformed migration channels and variation in the vector of financial flows which nourish terrorist activity. All the above-mentioned require deeper integration of co-operation of the special services and financial intelligence aimed to suppress any material and financial support to terrorism", Zh. Saipoldayev noted.

The Issyk-Kul Forum was held under the auspices of the State Financial Monitoring Service of Kyrgyzstan and its Training-Methodological Center in cooperation with the Eurasian group on combating money laundering and financing of terrorism, OSCE Program Office in Bishkek and UN Office of Counter-Terrorism. The CIS Anti-Terrorism Center became a partner of the Forum.

The Forum offered an informal regional platform for sharing expert opinions and familiarizing the participants with the best practices of investigation of cases related to money laundering and financing of terrorism.