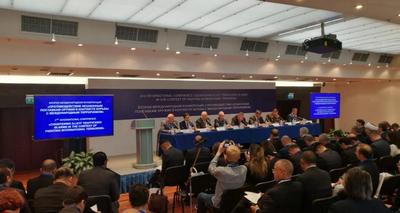 The Head of CIS Anti-Terrorism Center Andrey Novikov took part in the International Conference on "Countering Illicit Trafficking in Arms in the Context of Fighting International Terrorism" which was organized by the Russian MFA.
In his statement he noted the need to form and update the system of control over international circulation of guns and some types of arms for efficient fight on terrorism.

The Head of CIS ATC said that today there is much concern about how to counter equipment of international terrorist organizations with so called "assembled" arms with components of civilian weapons. Unmanned aerial vehicles take a special place in this group.

"It is obvious that the number of small-sized, difficult to detect and neutralize, easy to purchase and operate UAVs of both military and non-military purpose will be growing in the coming days. It is also true for the level of their availability. This is already a reality and we cannot control this process simply by banning," the CIS ATC Head noted.|

Andrey Novikov stressed that the anti-terrorism legislation including the international one requires changes and amendments as it is difficult to determine the legal status of UAVs since their majority might be referred to as "transport means" and then their circulation regulation falls under law on transport or robotics category.

"There is a need to complement the laws on law-enforcement authorities with provisions which regulate employment of arms and special means to counter unlawfully used UAVs and to create a special database on terrorist organizations having experience of employing UAVs and respective operators. Besides, to efficiently prevent UAVs falling into the hands of international terrorist organizations it is necessary to raise the question of their mandatory marking and elaborate efficient systems of control over small-sized objects in the air space, especially in the places of mass gathering and critical infrastructure facilities", the ATC's Head highlighted.

In support of the UN Office of Counter-Terrorism's initiative to intensify co-operation between the UN member-states aimed at prevention of new technologies falling into the hands of terrorists and adoption of the necessary and adequate measures in compliance with the international law, Andrey Novikov informed about the CIS ATC's intent to include the issue of preventing terrorist use of unmanned robotics into agenda of the XIII Meeting of the heads of national anti-terrorism centers of the CIS member-states which will be held in Moscow in February next year.

"Considering high interest of our partners from the Commonwealth states in handling this problem, there is every reason to believe that the UNOCT's initiatives will gain practical support and confirmation", he added.