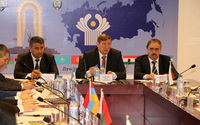 The Joint Staff Command Exercise was attended by officers of security agencies and special services of Armenia, Belarus, Kazakhstan, Kyrgyzstan, Moldova, Russia, Tajikistan and Uzbekistan as well as representatives of statutory intitutions and branch cooperation bodies of the CIS member-states.
The exercise was intended to train officers of operational units of the competent authorities of the Commonwealth states for conducting joint practical operations to prevent recruitment activity of international terrorist organization in the Internet.
The participants were informed about methods and ways of organization of inter-agency and inter-state cooperation during coordinated operations aimed at identification and neutralization of the persons involved into recruitment activity through social media.
The exercise made it possible to master algorithms of use of capacities of the CIS collective-use information systems during screening, including CIS ATC Specialized Data Bank, CIS security bodies and special services United Data Bank to Counter Organized Crime, United Data Bank of Fingerprint Information, Counter-Terrorism International Data Bank.
The conducted exercise has been one of the preparatory steps before the Joint Anti-Terrorism Exercise "Dushanbe-Anti-Terror-2017" which is scheduled for May-June this year in the territory of six member-states, including Armenia, Belarus, Kazakhstan, Kyrgyzstan, Russia and Tajikistan, as envisaged by the current Program of cooperation of the CIS member-states in combating terrorism and other violent manifestations of extremism.