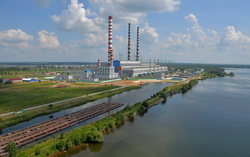 The exercise was conducted in two stages in the territory of five member-states, namely Republic of Armenia, Republic of Belarus, Republic of Kazakhstan, Kyrgyz Republic and Russian Federation.
During the first stage (23 to 25 May 2016) units of the security agencies and special services of the above states under the leadership of the coordination HQ of the CIS Anti-Terrorism Center carried out coordinated operational-search operations aimed to identify and prevent cyber-terrorist acts.
The units successfully solved the tasks to detect and prevent computer Ddos-attacks on a key infrastructure facility; prevented an attempt to destabilize its control system through implementation of malicious software (type CryptoLocker) and simultaneously apprehended manoeuvre cyber-terrorists.
On 1 June 2016, in the course of the second stage of the Cyber Anti-Terror 2016 exercise, special units of the State Security Committee, Ministry of Interior, Ministry of Defense and State Border Committee of the Republic of Belarus conducted a counter-terrorist hostage-release and manoeuvre terrorist group neutralization operation at the key energy infrastructure facility (Lukoml Power Station).
The EMERCOM units of the Republic of Belarus made arrangements to minimise the consequences. Within the counter-terrorist operation the special units for the first time demonstrated such tactical techniques as isolation and neutralization of criminals on the lake, employment of helicopters by groups using special weapons and snipers, blocking of a moving locomotive engine and its assault.
Once again a terrorist attack response state system developed in the Republic of Belarus was tested and interfaced with similar systems of the Commonwealth member-states. The joint anti-terrorism exercises represent a key component in the system of practical co-operation of the CIS states. Their main purpose is to enhance readiness of the security bodies, special services and other law-enforcement agencies of the CIS member-states to jointly counteract terrorist challenges and threats.
The Provision on the procedure of organization and conduct of joint anti-terrorist operations in the territory of the CIS member-states and the Program of cooperation of the CIS member-states in combating terrorism and other violent manifestations of extremism adopted for a 3-year period constitute the legal ground for conducting the exercises in the CIS.