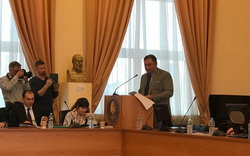 A forum of young leaders of Eurasia which brought together specialists from the countries of the Eurasian Economic Union, CIS and Georgia kicked off at the venue of the Russian State Humanitarian University under the auspices of the North-South Politological Centre on 22 March 2018 in Moscow.
The event was attended by a representative of the CIS ATC, Gevorg Minasyan.
In his statement G. Minasyan noted non-optimistic statistics demonstrating rejuvination of the followers of radical ideas saying that the issue of terrorism and society radicalization is specifically affects young generation.
He stressed that the CIS ATC deemed it necessary to bring information on the mechanisms of recruitment employed by terrorist organizations' emissaries to the citizens, to form zero tolerance to extremist ideology among young people as manifestations of extremism and terrorism took on today features of both political and sociocultural phenomena.
Besides, it is necessary to unite the efforts in theoretical and practical spheres of scientific work in order to work out common scientific approaches to defining fundamental concepts in countering terrorism and extremism.
The participants of the forum were provided with the CIS ATC's experience in information preventive work with young people, including prepared in cooperation with the Russian Civic Chamber and Russian Council of Muftis brochure Scary Story of DA'ESH.