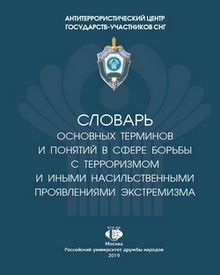 The Commonwealth of Independent States Anti-Terrorism Center has prepared a Glossary of Core Terms and Concepts in the Field of Countering Terrorism and Other Violent Manifestations of Extremism.

The Glossary methodology is based on legal approach which translated into integration of the terms and concepts contained in the universal and regional international treaties, model legislative acts of the CIS.

The Glossary was developed pursuant to the Program of Cooperation of the CIS Member-States in Countering Terrorism and Other Violent Manifestations of Extremism for 2017 – 2019 with due consideration of the proposals submitted from the competent authorities of the CIS member-states and approved at the extended meeting of the Scientific and Advisory Council of the CIS ATC held in September in Yerevan, Republic of Armenia.

The Glossary includes definitions of 414 terms and concepts in the field of countering terrorism and other violent manifestations of extremism. Each definition of the term (concept) is followed by a reference to its legal source(s). A page alphabetic reference is given at the end of the text.

The publication is intended for the law-enforcement authorities, special services and security agencies of the CIS member-states, CIS bodies as well as specialized scientific and educational institutions of the Commonwealth states.